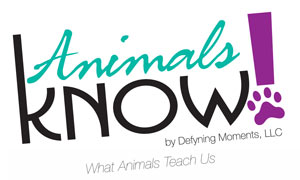 Area of Expertise:
Animal Communicator working with animals both physically alive and during/following transitions to spirit
Certified LifeLine Practitioner using this holistic system to discover and harmonize emotional reactive patterns in the subconscious that are reflected in physical symptoms and life stressors - both for people and their animals
Books Authored:
Defyning Moments: Lessons from an Ordinary Life
Animals Know! - What Animals Teach Us
Seminars or Keynote Topics
What Animals Teach Us
Defyning Moments: Lessons from an Ordinary Life
Breaking the Glass
Communicating Through VAK
Dealing with Difficult People
Your Time Is Your Life
Background Information:
M.A.T. Secondary Education - National Louis University
M.B.A. - Northern Michigan University
B.A. Biological Science - Indiana University
A.A. Architectural Interior Design - Triton College
Speaker: Keynote, motivational, business management, inspirational topics for national, regional and local conferences (list available)
Guest lecturer at educational institutions (list available)
Media - interviewed on CNBC, HGTV, WGN radio, published/quoted in numerous books and magazines
Program Auditor: National Center for Construction Education and Research
Financial Editor/Columnist: EC Magazine
Educator: High school biology and construction management
Trainer/course designer: National Electrical Contractors Association
Owner: Gust A Norberg & Son, Inc. Master Stairbuilders, a third generation custom staircase and railing contractor in Chicago.
President: National Association of Women in Construction and American Subcontractors Association
Other positions in restaurant management, banking, sales, health care, and other industries
Trustee: NAWIC Education Foundation, American Council for Construction Education
Served on more than twenty boards of directors.
National Awards: Outstanding Woman in Construction; ASA President's Award
Member - Alpha Gamma Delta Sorority - Beta Delta Chapter - 2nd Vice President (Panhellenic Award for highest pledge class G.P.A. on campus)
Married with 5 rescued cats.