PWN International Literary Award Recipient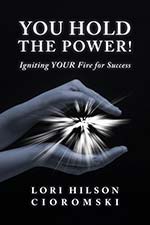 Books:
You HOLD The Power! Igniting YOUR Fire For Success
Area of Expertise:
Entrepreneurship
Achieving unparalleled growth
Innovation
Transition/exit strategies
Women's empowerment
Working women's work/life balance tips and tricks
Building confidence,
Seminars or keynotes Offered:
Be Courageous! Igniting Your POWER To Succeed –
Everything Is Possible! Gain valuable insight on rising above unforeseen roadblocks, getting back to your company's core value when your business is down, and remembering who helped you along the way. Please contact us if you would like to engage Lori as a speaker to inspire people to 'Be Courageous!
Unleashing Harmony –
Having It All Without Losing Yourself! Learn creative ways to be the best that you can be by being present for your family, career and most importantly yourself. Be deliberate, stay engaged and remember to breathe! Please contact us if you would like to engage Lori as a speaker to get ideas for finding balance without losing yourself!
Catalytic Moment to saying YES –
Take Action Say yes to volunteering or serving on a non-profit board with causes that feel right to you and continuously look for creative ways to promote yourself and your business. Find your catalytic moment and take a step. Please contact us if you want to if you want to gain a deeper understanding of the impact that volunteering and board participation can have in your life along with those you help.
Leveraging Your Assets –
Owing Your Power Having a strong business development plan is key to a company's growth. Gain understanding on what certification can do for your business and how to leverage your certification to its fullest. You're certified, what's next? Please contact us if you want to explore growth strategies through certification.
Should I Stay, or Should I go? –
Preparing for What's Next Being prepared, exploring options, deciding the future of your company and its employees is paramount when deciding what's next. Please contact us if you want to gain valuable insights before making the critical decision to transition your business.
Lori Hilson Cioromski has 37 years of experience as an award-winning leader primarily in the chemical distribution industry and advisor for entrepreneurship growth and development.

Founder and President of Essential Water Technologies, LLC, a WBE Certified specialty water treatment chemical supplier and strategic small business partner of Ecolab/Nalco.
Founder and CEO of HC Strategic Advisors, LLC assisting business leaders to grow and thrive through advice, mentoring and consulting on growth platforms, diversity initiatives, launching and exit strategies for all stages of business.
Co-Partner of SAGE OWNER INC offering a targeted entrepreneurial program, The Profit/Growth Accelerator? where entrepreneurs learn proven insights on how to apply the "ADD A ZERO" strategy of profit/growth from business leaders who have innovated and lived through growth challenges successfully and know what it takes to succeed beyond the 5 and after the 10-year marks.
Co-Founder of Female Strong, a non-profit 501c3, whose mission is to be the catalyst for middle school/high school females aspiring to be entrepreneurs and realize their dreams through educational programs, mentoring, scholarships and access to funding.
Senior VP & GM of Ravago Chemical and former CEO of the TH Hilson Company a Midwest specialty chemical distributor headquartered in suburban Chicago. TH Hilson was acquired by Ravago, a global leader in the plastics industry, in March of 2016.
Lori is recognized in the following ways;
Crain Chicago's "Notable Entrepreneurs",

Recipient of the "Enterprising Women on the Year" for Essential Water Technologies,

Inducted into UIC's "Chicago Area Entrepreneurship Hall of Fame",

Received the "Most Powerful & Influential Women Award" from the Illinois Diversity Council

Recipient of NAWBO Chicago's "Business Woman of the Year Award". NAWBO Chicago's "Member of the Year Award", the
Emergency Fund's "Heart of the Community Award", the "Enterprising Women of the Year" for TH Hilson Company, and The
Business Ledger's "Entrepreneur Excellence Growth Award".
Published Author:
If business owners, working mothers and aspiring leaders read the book, "YOU Hold The Power! – Igniting YOUR Fire For Success", they will gain the confidence to move mountains, fulfill dreams and achieve unparalleled growth and success in business and in life. For when we own our power, everything is possible!

Lori currently serves on the WBDC (Women's Business Development Center) Advisory Committee and is a Past-President for NAWBO Chicago (National Association of Women Business Owners).

Lori received her Bachelor of Science in Marketing from Loyola University of Chicago; she enjoys horseback riding, golf, tennis, cooking, writing and spending time with her family and friends.
Lori and husband Hubert have six children and 3 adorable grandchildren!